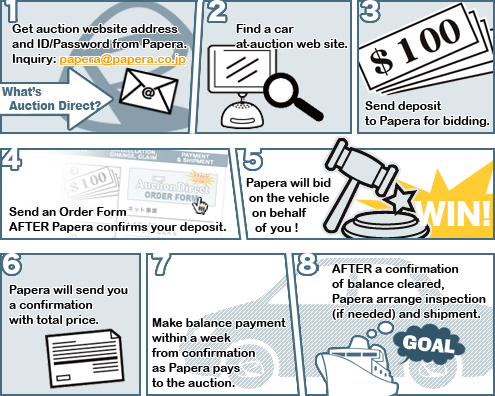 About AUCTION DIRECT
Through AUCTION DIRECT, you can purchase a vehicle directly from local auto auctions in Japan.
Why Auction Direct??
Save Extra Cost


All you have to pay is Papera's commission fee, and minimal transportation and inspection charge (if your country requires pre-export certificate).

Numberless Choices


You can choose a vehicle from more than 100,000 cars from around 70 auctions every week.

Get A Market Price


Most vehicles at auctions are quoted from the current market price, so the price tends to be fair.

Choose From Varieties


You can find "almost new" or "not in use" cars as well as used cars at auctions. You can also find an expensive/rare item. It is a good alternative source to find a vehicle which is not in our stock.