About PAPERA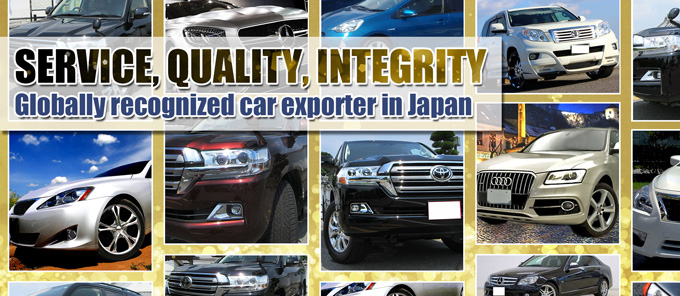 We are grateful for your interest in our company. Our company, PAPERA TRADERS CO.,LTD.is a specialist exporter of used Japanese vehicles. We have more than twenty five years experience in this area and now have regular clients in nearly twenty different countries. We take pride in our reliable and efficient services and enjoy positive feedback from our customers. We will try our best to give you satisfaction.
Thank you very much for your business with us.
We try to become the best company by customer satisfaction in this field.
Thank you and best regards.
We are dealing with very unique and very special dream product and in Japan, you will find lot of Japanese and Foreign Company - whom are involved in similar business as "Papera", offering the same service as "Papera".

But Just Very Simply Like to Say - Just Try Us For Once.
We Will Grantee You That - You Will Come Back to Us Again For Your Next Product or Surely You Will Introduce Us a New Buyer... Thank You Very Much.
I parcase the kind of cars you want. If you are looking for any particuler vehicle, please let me know.
I will be more than happy to assist you!
It's my please to assist you in finding the ideal vehicle for you.
If you are interested in any particular vehicles or have any questions, please just let me know! 
Let me assist you through.
Hi, I am the factory manager.
I am the person who takes care of the whole condition of the vehicle you purhcased.
It is my hope that you enjoy driving our vehicle Safety.

Yoko Hiyoshi (Ms.)

Hello,
I came back to Papera!
I'm very much exited about doing business with our customers again.

Hina Hakamada (Ms.)

I am proud of working for Papera and try my best to give you satisfaction.

Yoko Arayama (Ms.)

Hi there! I'm YOKO and here to please you.
Just let me know what you're looking for.

Miki Yoshida (Ms.)

It is my pleasure to be your help.
As a sales assistant, please let me know any concerns or requests regarding the enquiry!

Naomi Ishizaki (Ms.)

I would be very glad to find your best car. Please let me know any question anytime.
I look forward to your inquiry!

Takahiro Hirano(Mr.)

Hi I am happy to serve you in getting quality vehicles for you.
I look forward to hearing from you soon!!

Kei Kayama (Ms.)

I will do my very best to provide high quality customer services. Please feel free to contact Papera for anything.

Magi Tsurui(Ms.)
Tel : +506-6022-0944 (WhatsApp & Skype available)
Hi, I work from Costa Rica to support our customers all over the world in a more timely manner.
Your satisfaction and happiness are my biggest pleasures.
Let me find the best car for you!


NVSR Traders BD
Email: info@nvsr-bd.com
http://www.nvsr-bd.com


Salesio Njeru Gerrard(Mr.)

Tel : +254 733 612 472

It has been 5 years since I became Papera's partner.
However, I have been their customer for more than 20 years and know them very well.

The reasons why I choose Papera are...
1. Quality of the vehicles
2. Professional and kind customer service
3. Honest business style

Whenever you need any local assistance in Kenya, I will be there for you.
I can assure you that you are in safe hands if you choose Papera!
Karlene Gregory(Ms.)
It's been 10 years as a Papera Traders Agent, it has been 10 awesome years.
However it has been over 20 years that I have known this company.
I have decided to stick with this company because of their honesty, their trust worthiness, their love and care that they show the customers, their flexibility to find all the units, their ability to satisfy their customers and the market.
Papera always put their customers 1st hence the customers remains loyal to them over the years.
I feel to be a proud partner and to represent this amazing and prestigious company, this feeling gives me the drive to continue to work hard to continue to achieve success for Papera in the Jamaican market.
Papera continues to be the market leader in clean and affordable cars while.


Mary Sheshe(Ms.)

Cars are us, bringing you the best cars from Japan in the best condition.


Company Name:
PAPERA TRADERS CO., LTD.
Founded:
August, 1990
Established:
March 19th, 1991
Main Office:
3-20-11 Takada Toshima-ku, Tokyo, 171-0033
Workshop:
2890-1 Funakata Noda City, Chiba, 270-0233
Capital:
50,000,000 yen
Bank Information
[MUFG BANK]:
Bank Name: MUFG BANK, LTD.
Branch Name: TAKADANOBABA BRANCH
Account Name: PAPERA TRADERS CO., LTD.
Account Number: 0941005
Address: 3-2-3 TAKADANOBABA, SHINJUKU-KU, TOKYO, JAPAN
Swift Code: BOTKJPJT
Bank Number: 0005
Branch Number: 053
Bank Information
[RESONA BANK]:
Bank Name: RESONA BANK
Branch Name: WASEDA BRANCH
Account Name: PAPERA TRADERS CO., LTD.
Account Number: 1565987
Address: 1-16-4, NISHIWASEDA, SHINJUKU-KU, TOKYO, JAPAN
Swift Code: DIWAJPJT
Bank Number: 0010
Branch Number: 420
Bank Information
[KIRABOSHI BANK]:
Bank Name: KIRABOSHI BANK, LTD.
Branch Name: YOYOGI BRANCH.
Account Name: PAPERA TRADERS COMPANY LIMITED.
Account Number: 0647364
Address: 1-52-1 HATSUDAI, SHIBUYA-KU, TOKYO, JAPAN.
Swift Code: TOMIJPJT
Bank Number: 0137
Branch Number: 802
-----------------------
Intermediary Bank: JP MORGAN CHASE BANK, NEW YORK U.S.A
Swift Code: CHASUS33
Membership and Qualifications:

Member of Automobile Fair Trade Council
15 staff who are qualified as official JAAI automobile appraisers
Member of Nippon Auto Auction Association
6 automobile mechanics who are government certified.